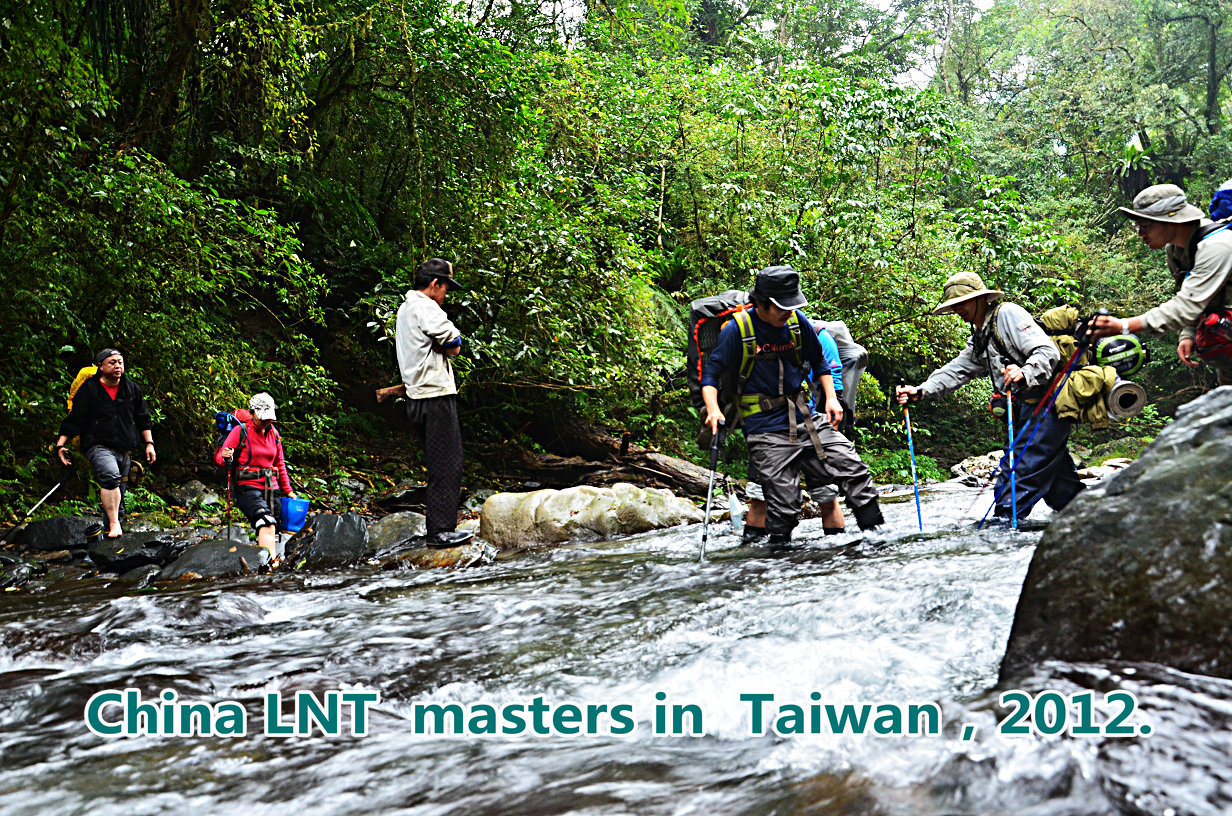 (中国大陆的LNT高级讲师在台湾哈盆山地,左一为无痕中国的大麦。)


What country in the world is only 1/4 the size of Wyoming but a population of more than 50 times as many people? The answer is Taiwan.
Taiwan is an island off the southern coast of southern China. Taiwan is known for their computer expertise, hospitality, incredible food and Giant bicycles. It is also known for its majestic peaks, blue oceans, and cascading waterfalls. It is a paradise for adventure seekers that many of us overlook due to her size.
On November 17th, a historical LNT event occurred in Taiwan. The People's Republic of China, also known as Mainland China, graduated students in the first LNT master course.
12 workers from the Friends of Nature, a Non-Profit Organization based in Beijing, came to Taiwan to have the 5 day master course. The course was led by Wu, Guan-Jang and Benjamin Rush. Other instructors were Master teachers: Cheng, Ting-Ping and Alice Jheng. Ashong, a guest instructor, who is Aboriginal, was also invited to introduce the Aboriginal lifestyle of Taiwan.
The 5 instructors provided a rich depth of experience and knowledge of both Taiwan and the outdoors. It was the first group of people from China to attend an LNT course.
Cheng, Ting-Ping, the secretary general of Hope and Multiple-adaptive Developement Assocoation, first went to China to introduce the 2 day trainer course. After the course and further interest in LNT, he organized them to come to Taiwan for their master program.
For those of you who aren't familiar with China or didn't watch the 2008 Olympics, China is the waking giant of Asia. With a whopping population of over 1.3 billion people, it's one of the most fascinating countries in the world.
If you have been to its capital, Beijing, the city alone, boosts over 27 million people。How ever, China is also a land full of beauty. It holds 7 of the worlds 12 highest peaks. China is comparatively the same size as the United States and has a unique environment of its own. China with all their people has some serious environmental issues that have caused international uproar.
The students of the first class have their work cut out for them. The LNT master course was held in Ha-pen Historic Trail, which is the northern part of Taiwan. We started on Monday and the course was over on Friday.
Each day was filled with LNT classes, Taiwan facts and culture information. According to students and instructors, it was a very successful course. It was more than they had hoped for and learned so much about Taiwan, LNT and their future plans for China.

We wish the students of China all the best in quest to keep China beautiful.